Essential Kitchen Tools Every Baker Needs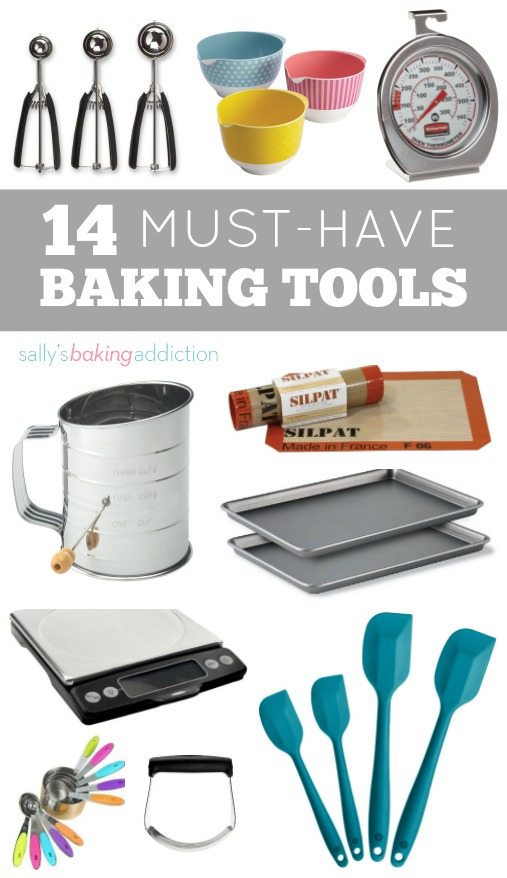 If your last Great British Bake-Off marathon made you suddenly want to take up baking, welcome to the club. Baking is a wonderful therapeutic way to cook, with the end result being a delicious guilt pleasure. However, not even the best chef can bake if you don't have the baking essentials. Below are the 14 tools every baker, beginner or advanced, needs in their kitchen.
1. Oven Thermometer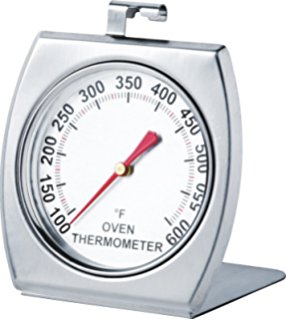 Unless you have a brand new or regularly calibrated oven, your oven's temperature is likely inaccurate. Incorrect temperature ruins baked goods and you waste hours spent on the recipe and money spent on ingredients. Inexpensive, but essential, place it in your oven so you always know the actual temperature and your baked goods will come out perfect every time.
Recommendation: Rubbermaid Stainless Steel Oven Monitoring Thermometer ($7)
2. HAND MIXER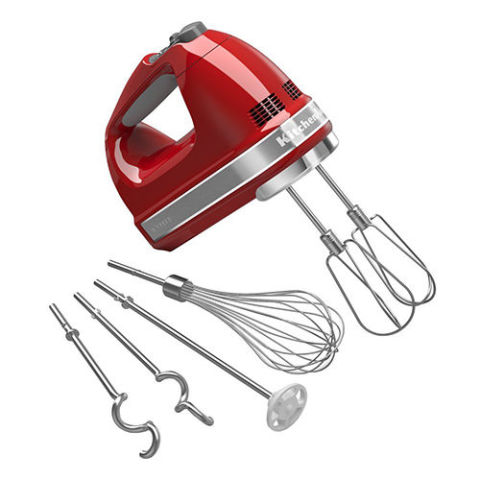 For the beginner baker, a hand mixer with the various attachments is perfect. A stand mixer is fantastic if you can afford one, but a hand mixer will do the job just as well, with a bit extra effort. Hand mixers can be used for all sorts of things, baking or cooking alike.
Recommendation: KitchenAid 5-Speed Ultra Hand Mixer ($40)
3. FOOD SCALE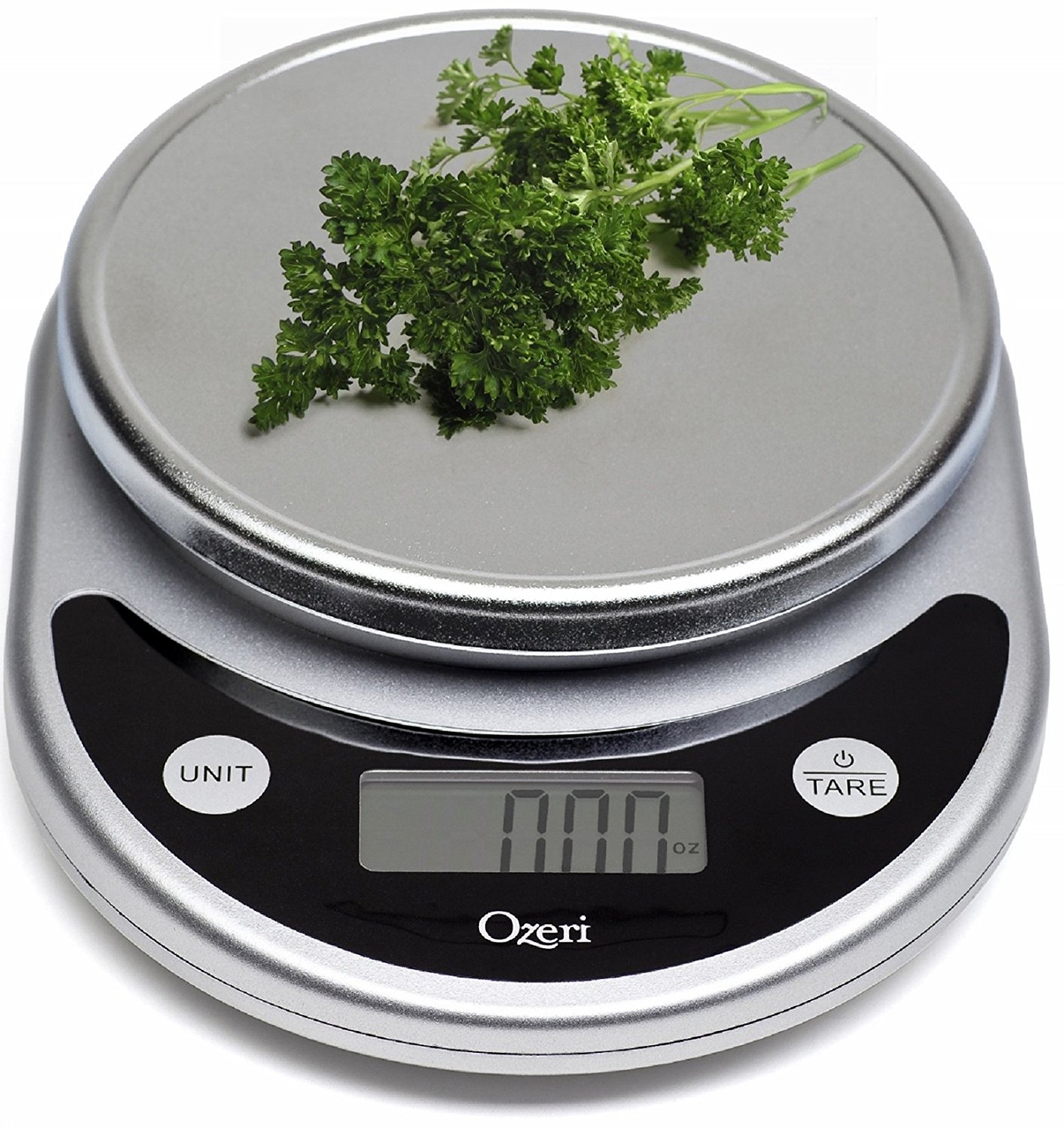 In baking, precision is key, and the most precise way to measure is with a food scale. It is still good to have measuring cups/spoons, but if you have to choose one or the other, go with the scale!
Recommendation: Ozeri Digital Kitchen and Food Scale ($13)
4. SILICONE BAKING MATS

These are one of the best things you can own for baking, as it can make any surface useable for baking purposes, is nonstick, and can even withstand the oven so you can save money not having to buy parchment paper. You can use them as an easy nonstick surface for pouring out my toffee or brittle to cool, after dipping candies and truffles (they release SO easily!), for rolling out cinnamon roll dough, pie dough, pizza dough, and more. The bottoms of your cookies will always be evenly baked and they slide right off the mat. Cleaning is a breeze and they're even dishwasher friendly.
Recommendation: Silpat Silicone Baking Mats ($15-$25)
5. COOKIE SCOOPS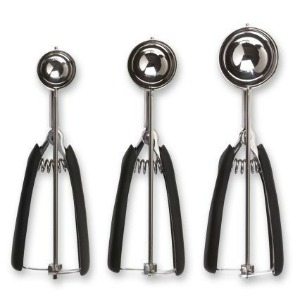 These are not just for perfectly shaped cookies! Get one in each size and use the large for cupcake/muffin and pancake batter, ice cream, and the prettiest mashed potato scoops. Use the medium for cookies, and use the small for truffles, tiny cookies, and as a melon baller. They're infinitely handy!
Recommendation: Norpro Cookie Scoop Set of 3 ($30)
6. SIFTER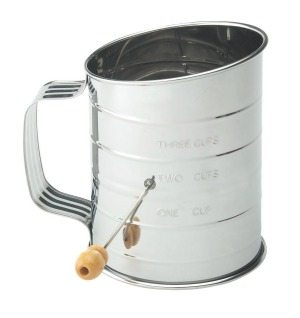 Some recipes require sifting dry ingredients like flour, sugar, chemical leaveners, and/or cocoa powder. That step is not just for fun or to make your life difficult. It aerates these ingredients and rids any lumps so your recipe turns out. It's inexpensive and crucial!
Recommendation: Mrs. Anderson's Hand Crank Sifter ($10) 
7. COOLING RACKS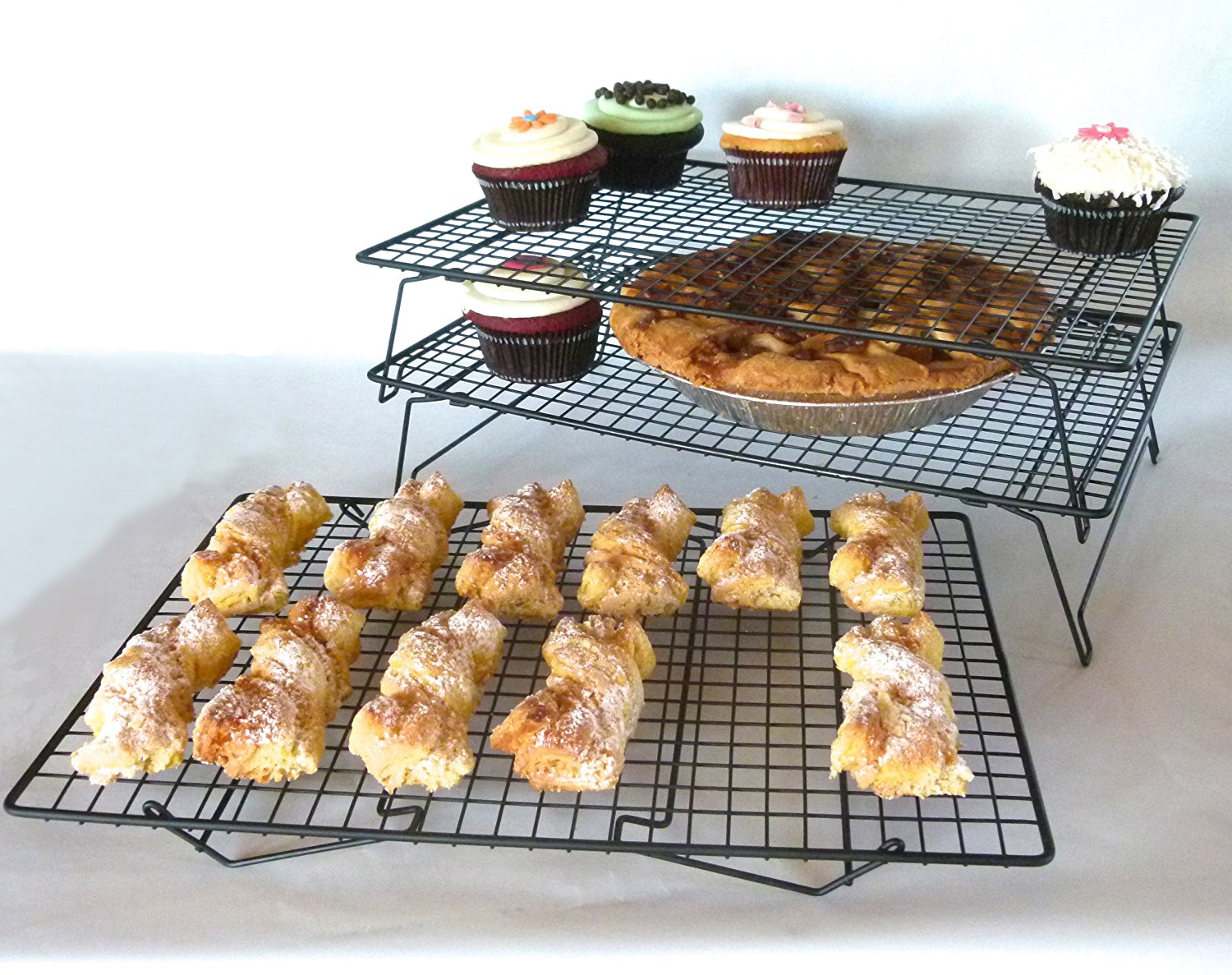 Never let your cakes, cupcakes, muffins, etc cool in the pan set on the counter. The bottoms' cooling rate is incredibly slow because no air is getting to that bottom portion of the pan. And for cookies? They must cool on racks, most certainly not on your counter or on the baking sheet. Cooling racks are imperative so that the cooking process stops and your baked goods cool evenly. These stackable racks are nifty for saving space if you're cooling a lot of munchies at once.
Recommendation: Sunflair 3 Tier Stackable Cooling Rack ($27)
8. ROLLING PIN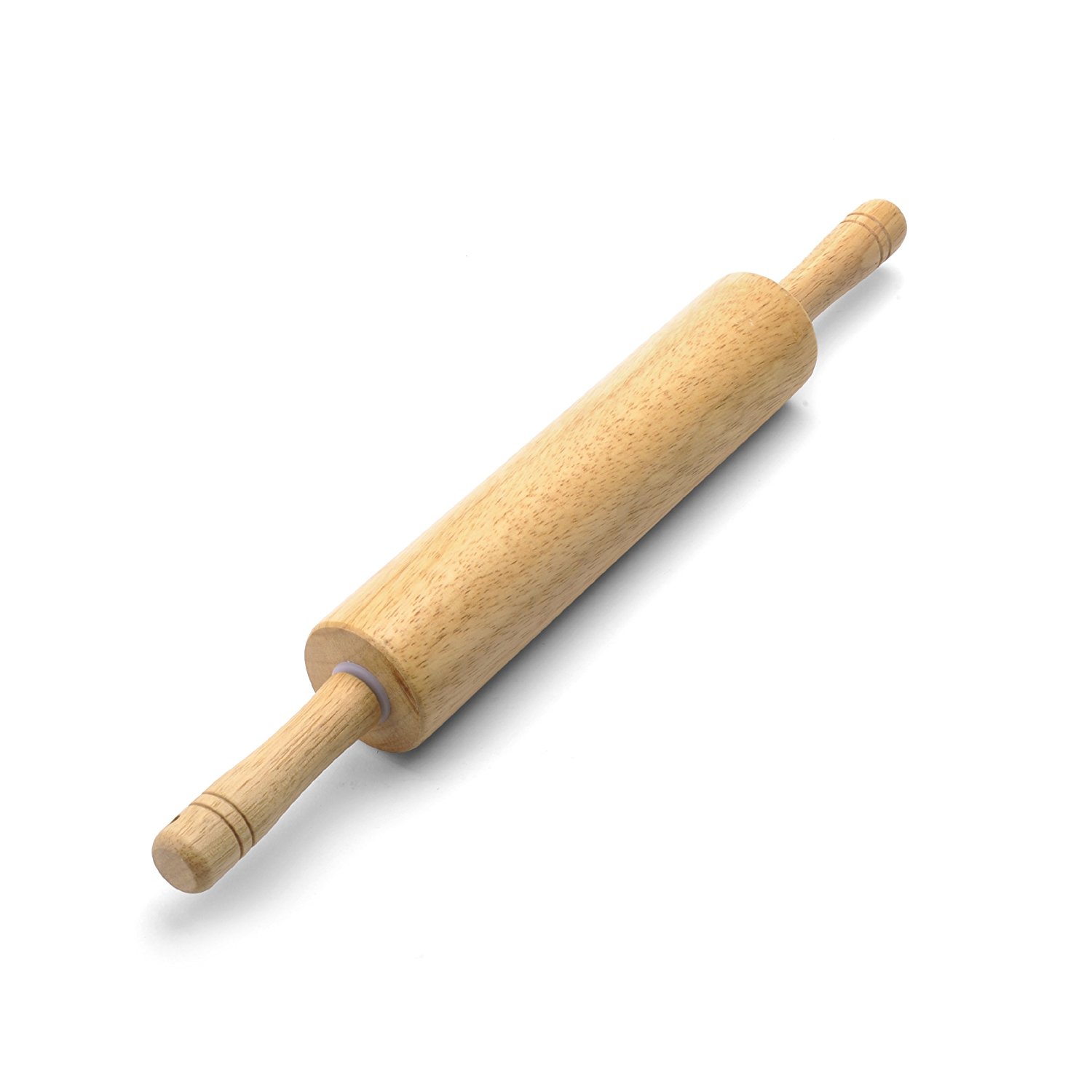 An obvious essential! There are also pricier ones with rings that control the thickness of what you're rolling, but a basic one will do just fine.
Recommendation:  Farberware Classic Wood Rolling Pin ($13)
9. BAKING PANS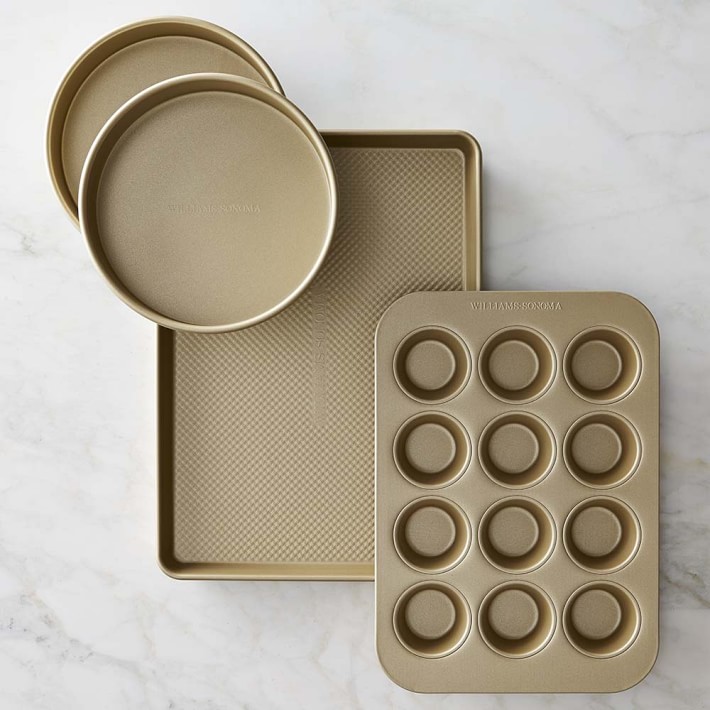 There are a million different sizes and shapes of baking pans, but the essentials you must own are at least: 3 9-inch cake pans, 2 9-inch square pans, 2 12-count muffin pans, 1 9-inch pie plate, 1 9×13 baking pan, 1 24-count mini muffin pan, 1 9×5 inch (or 8×4 inch) loaf pan. There are all sorts of brands in varying design and quality, so you can start cheap, but invest in nicer ones that cook more evenly and reliably once you can afford it.
Recommendation: Rachael Ray Cucina 4-Piece Bakeware Set ($34)
High End Recommendation: Williams Sonoma Goldtouch® Nonstick 4-Piece Set ($80)
10. RIMMED BAKING SHEETS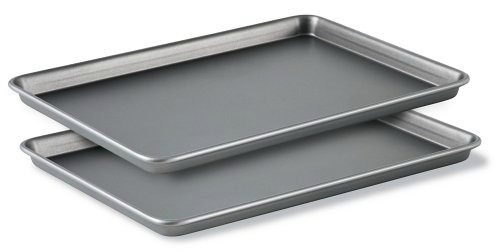 This is just an extension of the above, but rimmed baking sheets are critical. You can use them for baking cookies, sheet cakes, breads, pouring out toffee/brittle/bark, roasting vegetables, meat, you name it. The 12×17 inch size is perfection for holding a dozen cookies and the rimmed edges prevent any sauces/syrups from dripping off the sheet. Every baker should have at least 2.
Recommendation: Circulon Nonstick Bakeware, Baking Sheets ($25)
11. PASTRY BLENDER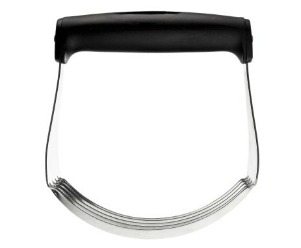 Pie dough, biscuits, scones, streusel, and other delicious miracles are made with a pastry blender. It's handy for breaking up cold butter into tiny little bits and pieces among your other ingredients– but not completely incorporating it. These cold butter bits = flaky dough. A metal pastry cutter keeps your butter cold where other tools (or your hands) might warm it, which is the exact opposite of what you're trying to accomplish. Inexpensive and essential.
Recommendation: Orblue Pastry Blender Stainless Steel ($8)
12. SPATULAS & WHISKS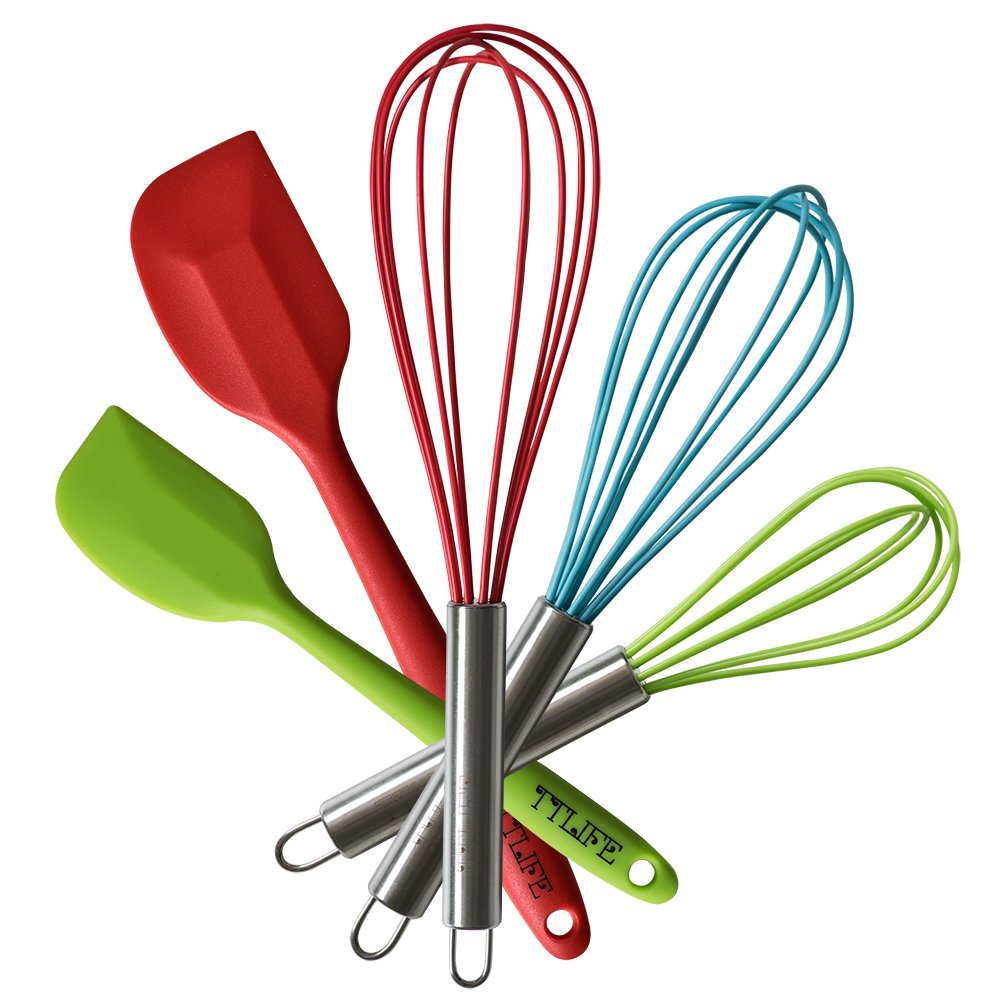 From stirring and mixing, to scraping the sides of bowls, spreading frosting, cooking, etc, you will use them for everything, everyday. Whisks are another often used essential and these silicone ones are far easier to clean and won't scrape the bottom of your saucepan.
Recommendation: TTLIFE Silicone Spatula & Whisk Set ($23)
13. MIXING BOWLS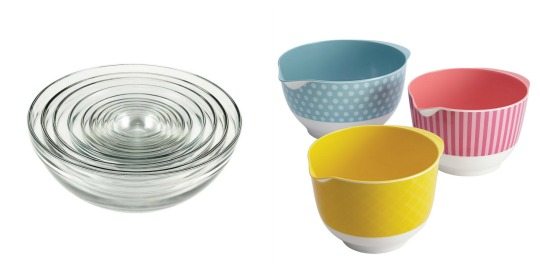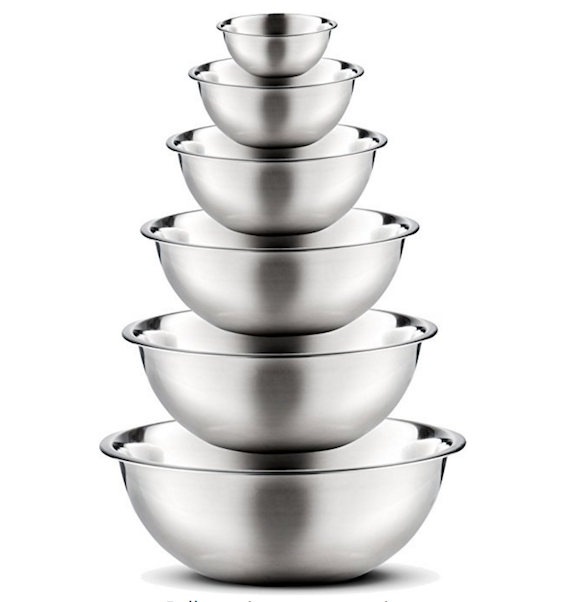 You obviously cannot bake if you have nothing to mix your ingredients in! Glass or metal bowls are essential because egg will not whisk up otherwise. It is also nifty to have bowls with pouring spouts for various batters, cake, pancake, cupcakes, what have you. If you only choose one though go for glass or metal, not plastic!
Recommendation: Finedine Stainless Steel Mixing Bowls ($23)
14. MEASURING CUPS & SPOONS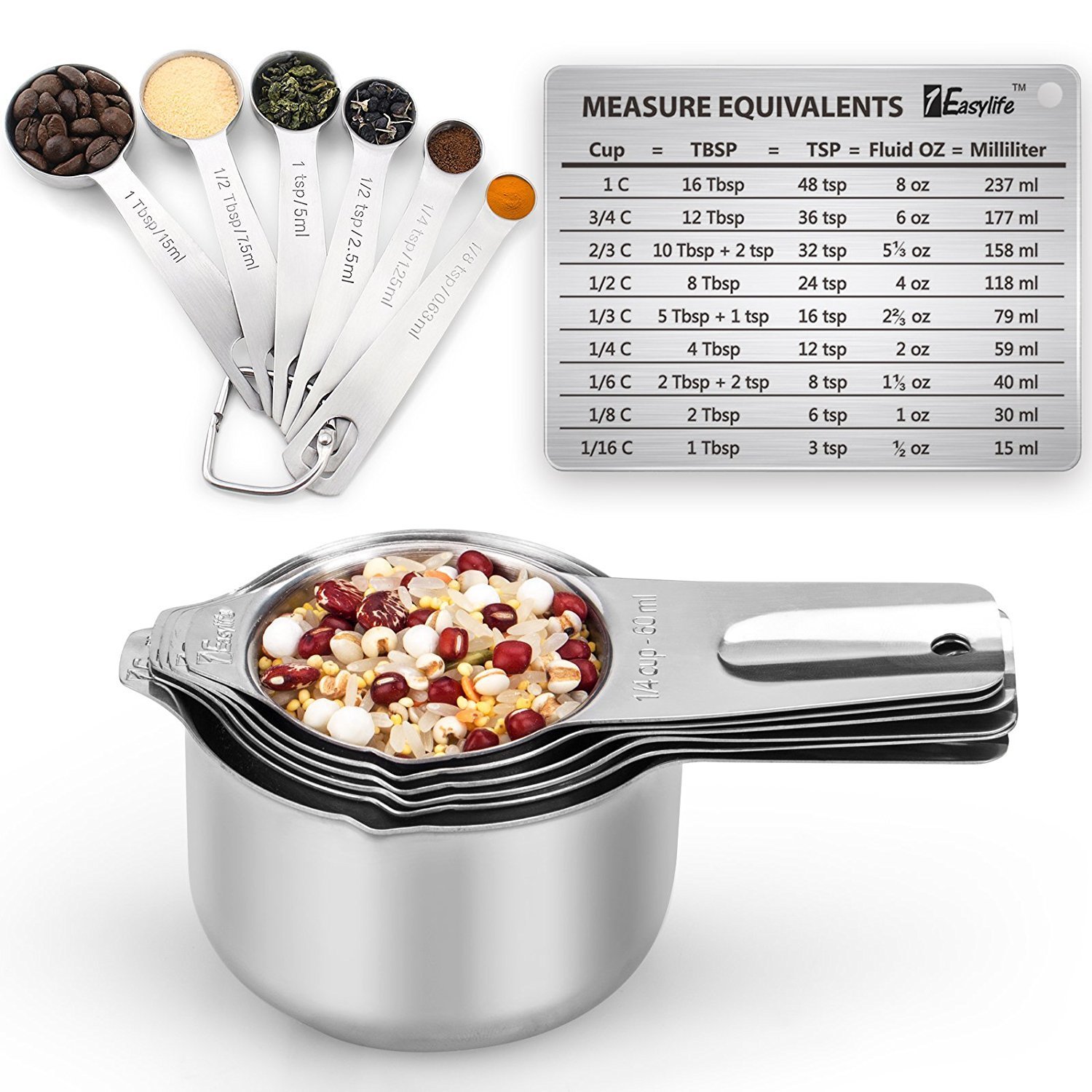 Measuring cups and spoons and liquid measuring cups are key for every baker. The best sets are the ones with lots of uncommon measurements, like 1/8 tsp and 1/2 tbsp and such. There are also nifty silicone bendable measuring cups for liquid other than just the standard pyrex ones.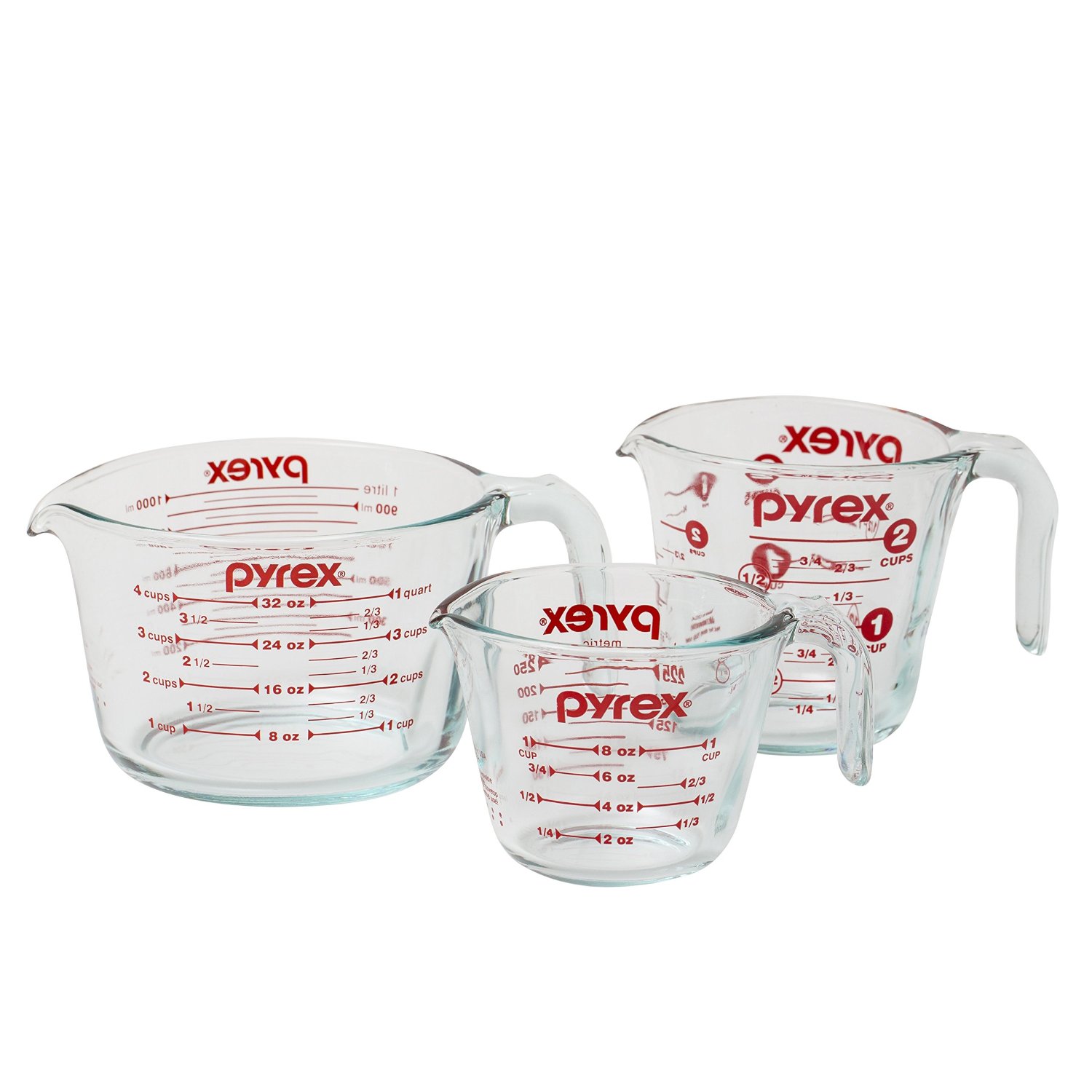 Recommendation: 1Easylife Measuring Cups and Spoons Set of 15 ($27) & Pyrex 3-Piece Glass Measuring Cup Set ($15)
With these 14 items, you are all set to get baking and become your household's very own Martha Stewart.  
Ready, set, bake!